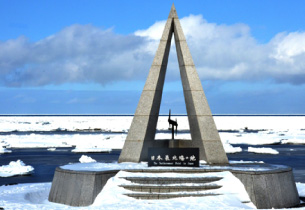 Enjoy beautiful winter landscape and food at the northern most area of Japan
The Wakkanai area
Wakkanai is Japan's northernmost city. The Monument of the Northernmost Point of Japan is found at "Cape Soya," and "Cape Noshappu" is a great place to enjoy the sunset. These seaside locations boast beautiful winter landscape illuminated by snow and ice. The city has long been hosting an annual winter event "Snow Land," where visitors can enjoy winter-only activities such as a snowcat/snowmobile ride. The area is also known for delicious cuisine, such as "octopus shabu shabu" and "Soya black beef."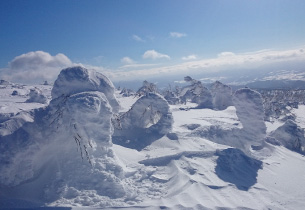 Experience the highest-grade powder snow
The Nayoro area
Boasting fertile land with River Teshio and River Nayoro flowing through it, Nayoro City is among the largest producers of glutinous rice, asparagus, etc. We recommend enjoying the highest-grade powder snow on a snowmobile ride or snow picnic in winter. If you are lucky, you will be greeted by large frost-covered trees called "Snow Monsters" or a phenomenon called "Sun Pillar," in which a beam of light appears to extend up- and downwards from the sun. Each restaurant has differently-seasoned delicious Genghis Khan stew, which will surely warm you from the core of your body on a cold winter day.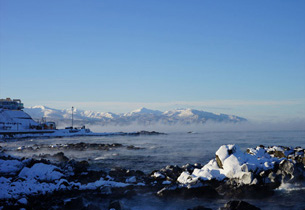 Enjoy the rich seafood flavors of the Sea of Japan
The Rumoi area
The Rumoi area is the largest producer of sweet shrimp in Hokkaido. The coastline that extends from Otaru City through Rumoi City to Wakkanai City is called "The Sea of Japan Ororon Line" and is great for a leisurely drive. As the route runs along the coastline, you get a panoramic view of the famous harsh waves of the Sea of Japan and the islands of Teuri and Yagishiri in between, as well as Mt. Rishiri, also known as Rishirifuji. "Cape Ogon" is a great place to enjoy the sun setting through harsh-looking oddly-shaped rocks, and is also a wonderful photo spot. "KUNIMARE SAKE BREWERY," located in Mashike-town, is the northernmost sake brewery and attracts many visitors as well.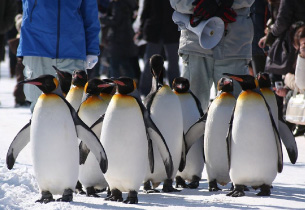 Enjoy great nature, various sightseeing spots, and locally-brewed sake
The Asahikawa area
Asahikawa City, located near the center of Hokkaido, is its second largest city. As it is situated inside the Kamikawa Basin, the largest basin in Hokkaido, it has hot summers and cold winters, and the annual amplitude of temperature change reaches 28.6 degrees Celsius. If you are lucky, you will be able to see a phenomenon called "diamond dust" on a sunny cold winter morning, when the temperature sharply drops to less than negative 10 degrees Celsius as ground-level heat gets lost due to radiative cooling. The area boasts various sightseeing spots such as "Asahiyama Zoo," one of the most-visited zoos in Japan, and "Ueno Farm," famous for its beautifully-combined farm and garden.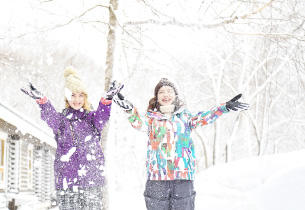 Experience winter activities where known for heavy snowfall, and enjoy locally-produced wines.
The Iwamizawa area
The Iwamizawa area is still somehow reminiscent of the time when it was bristling with railway and coal mine workers. It is known as one of the snowiest places in Japan, and you can take advantage of it and enjoy playing or riding buggies in the snow. You can also enjoy the rich flavors of locally-grown vegetables at farm restaurants and fashionable cafés. In addition, the area also began producing wine in recent years, and more and more wineries are now accepting visitors.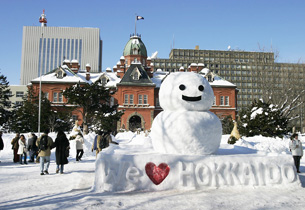 Center of Hokkaido where the city and nature together in harmony.
The Sapporo area
Sapporo will be your home base during your trip in Hokkaido. The city has many sightseeing spots such as "Sapporo Clock Tower" and "Odori Park," and hosts many winter events such as "SAPPORO SNOW FESTIVAL" at various locations in the city. You can also enjoy winter activities such as skiing and snowboarding. Both Japanese and foreign tourists say that the best part of Sapporo is its "food," prepared using fresh seasonal ingredients produced in Hokkaido. We also recommend spending a relaxing day at Jozankei Onsen, only less than an hour by car from the city center.
Recommended mini trip
from

Wakkanai

As the northernmost part of Japan, Wakkanai is a major base for enjoying Northern Hokkaido, including Cape Soya with its stone monument marking the northernmost tip of Japan, hot springs in the suburbs, and sightseeing in remote islands such as Rishiri and Rebun, etc. You can also enjoy the Winter experience that is possible only in an arctic-style location!

Recommended mini trip
from

Asahikawa

Recommended mini trip
from

Sapporo

From Sapporo, a sightseeing base for Northern Hokkaido, there are a variety of mini trip plans on which you can easily enjoy the charm of Hokkaido. If you want to experience not only the standard sightseeing spots but also the charm of unknown Hokkaido, why not try them!